I have worked as a personal trainer for over ten years, and have experience working with all types of people, from those who have never exercised before to experienced athletes. I have also choreographed for TV and film productions. I use my experience to motivate people to achieve their goals, showing them the quickest and most effective ways to do this, whether they want to get fit, lose weight, tone up, learn a new skill, or have a specific goal such as running a marathon.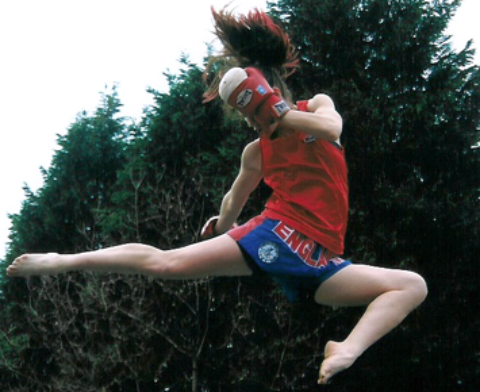 Over 15 years ago I had put on a lot of weight and after having tried all types of diets which did not work I knew I had to start exercising, so I gave Thai Boxing a try. I loved it straight away and changed my diet so that I was eating healthier food, and soon the weight started to fall off as I began to tone up.
After a couple of years of training I decided I wanted to try competing, to see if the skills I had been learning would work in the ring. I really enjoyed competing and after a few years I decided to live in a Thai boxing camp in Thailand to try and learn as much as possible. I lived there for two years and in this time became Amateur World, European, Asian and British Thai Boxing Champion representing the England team.
I continued to train in both Kickboxing and Thai boxing once I returned to England, and I also decided to take up Boxing. I enjoyed the new challenge and began competing, becoming British boxing champion and was then selected to compete on the first female boxing team. With both sports I have been lucky to compete all over the world, giving me the opportunity to train with a wide variety of trainers, of which I bring these different aspects to the work I do with my clients.
Having represented England in two sports, I believe that with the right mental attitude, correct training and diet any goal is possible. I pass this onto my clients and enjoy seeing them achieve their goals. If you are interested in personal training, please get in contact today. Initial consultations are £30 for one hour – where we will work together to decide what the best way is for you to achieve your goals.
TRAINERS CAN GET FAT TOO!
Last year I suddenly started to put on a lot of weight even though I was exercising and my diet hadn't changed.  After several months of seeing my body change I decided to go to the doctor for the first time in 10 years.  I was sent for tests where they discovered a large cyst so I had my stomach opened to have it removed.
Suddenly I was no longer moving around let alone exercising and I discovered comfort food.  At first I enjoyed eating all the wrong foods until none of my clothes fitted me, and I started to feel really uncomfortable, lethargic and my confidence was dropping rapidly.
Six months on I had put on 10 kilos (1stone 5lbs), then in January this year whilst shopping in the sales I bought yet another item of clothing that I knew would not fit, and thought maybe I was going mad!  So I decided then and there I needed to address what I was doing and go back to basics.
I started exercising regularly again and followed the dietary advice that I give my clients every day and within 3 months I had lost the 10 kilos. My energy and confidence levels are back to where they were before and my clothes fit again.
This experience has helped me understand my clients needs more than ever and helped me come up with more innovative ways to motivate and encourage them.
.
Qualifications
Personal Training Diploma
Boxing Instructor
Thai Boxing Instructor
Kickboxing Instructor
Pilates (beginner to advanced level)
Sports Massage
Nutrition
Circuits
Strength training
Core training
Plyometric training
Kettle Bell
Power Plate